MEET THE 2016
CELEBRATING HIGH SCHOOL
INNOVATORS AWARD WINNERS!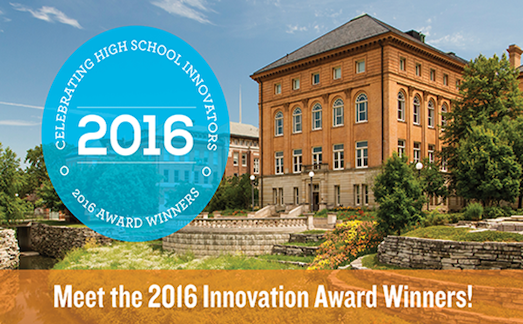 NOTE: THE FILM "CUSTODIANS: THE CREW BEHIND THE CLEAN" WAS A JOINT PROJECT BY CO-CREATORS DANIELLE TUCHMAN AND CAMERON BEACH.
Cameron and Danielle filmed and created a thought-provoking documentary about the custodial staff at her school, whom she calls "the ghosts of the school, always present though never acknowledged." She admits that the custodians were "quasi-invisible to me, a group of people I had dismissed as separate from myself. It took this documentary to bring them into my field of view." Through her short film "Custodians: The Crew Behind the Clean", she has helped change how the custodians are viewed. The film has gained traction through Facebook, and through a viewing at a school faculty meeting. Over 450 teachers and the entire custodial staff were in attendance, and the reaction was tremendous. Cameron hopes her message of gratitude and respect will continue to grow.
The film can be viewed here.
David's tenacity and hard work made it possible for teens in his area to explore medical careers. After initial resistance from the medical community because of his age, David created a vibrant and successful club through his local 4-H chapter for teens interested in medicine. Club members participate in a variety of experiences such as performing virtual hip replacements, taking tours of research labs, hearing guest speakers, learning to take vital signs, and learning interview skills. Several members have obtained positions as provider's assistants at a local medical clinic, and others participate in job shadowing with doctors. The club regularly engages in outreach projects in the community as well. Members even mentored a graduate student who had trouble getting accepted to Physician Assistant (PA) school. They ran mock interviews, connected her with practicing physician assistants and so forth. Their coaching paid off! She applied again and was accepted to PA school.
David created an innovative and collaborative project called 
Argo Vibez
 at his school. Each month, the band, choir, and orchestra departments work together under David's direction to record an original song, which David has composed. The song is then released on SoundCloud. In addition, art students create designs to go with the song. One piece of artwork is chosen as the official cover art, and the rest are put together in a montage lyric video. So far, six quality songs have been produced. David brings in his own equipment, and works around the performers' schedules to make all of this happen. The songs range from one to celebrate homecoming, to others that address contemporary social issues. "This project has provided the opportunity for kids to showcase their talent, combine four departments into one, raise school spirit, and expose the power of artistic activism," said David.
"Deeply moved by the silent pandemic of cyberbulling, I decided to work to find an effective, meaningful solution to stop this hurting forever," said Trisha Prabhu, creator of the mobile app ReThink. The app effectively stops cyberbullying before the damage is done. Potentially harmful messages are detected before they are posted on social media and messaging. Trisha's research shows that when teenagers are alerted by ReThink to reconsider their decision to make a harmful post, they change their minds 93% of the time. Several programs address cyberbullying after the damage is done—and puts the burden on the victim to act—but this app is the first to proactively prevent cyberbullying. ReThink helps adolescents and kids become responsible digital citizens. The ReThink slogan has been adopted by hundreds of schools around the world as a tool to raise awareness about and to stop cyberbullying. ReThink is available for free on both Android and iOS devices.
Ethan is making a name for himself in the arena of electronic music, where artists take existing songs and remix them. Under his alias 
Wheathin
 (rhymes with Ethan) he has 31,000 followers on SoundCloud and his most popular remix has nearly 3.7 million plays. Remixed electronic music can be very different from the original music it draws from, and is considered its own legitimate, creative work. Skrillex, arguably the most famous electronic music producer in the world, puts out a monthly playlist of his five or six favorite songs. Last August, Skrillex chose Ethan's song 
Mssingno XE3 (Wheathin Turn)
 as one of these "Skrillex Selects." This song, as well as other remixes he's done, are receiving high acclaim from electronic music fans. Ethan is in talks with record labels, and hopes to start playing large-scale shows later this year.
Troubled by the issue of people in need of food not having many healthy options, Jessica was inspired to take action. She decided to grow microgreens, utilizing her school's aquaponics system. Microgreens are the tender shoots of vegetables harvested one to two weeks after germination, and can have four to forty times the amount of nutrients as their mature counterparts. They can also easily be added to a variety of dishes. Jessica plants, harvests, and packages these microgreens and donates them to her local food pantry. She also visits middle school classrooms and educates students on healthy eating, and brings microgreens for them to sample. She will also be starting an after-school nutrition and cooking program at a local middle school. "Though my initial project idea was to integrate more nutritious vegetables to food pantries, I am excited that this has sprouted and grown into a project engaging a wider span of the community," said Jessica.
Pranav Sivakumar and Paul Nebres have developed an automated method to efficiently identify gravitational lensing in quasars. In this method, light from a quasar is affected by one or more massive objects between the Earth and the quasar, resulting in multiple lensed images. This helps in deciphering dark energy and dark matter. Pranav and Paul, using data from the Sloan Digital Sky Survey (SDSS), use their method to search for lensed quasars. Their automated algorithm combines both types of commonly collected data from SDSS to identify lensed quasar candidates and improves the accuracy and reliability of these candidates for follow-up observations. They were able to identify more than 100 lens candidates. Even more exciting, they were able to discover the lensed quasar SDSSJ2146-0047. This discovery was confirmed by Professor Adriano Agnello and his team at UCLA.
Blake helped design, engineer and run his school's broadcasting studio from the ground up. As the official Director of PTHS TV, all broadcasting and online streaming of school athletic and musical events, public relations, social media, student recruitment and training, and technology has been under his direction. He was the first to stream school events online, which has made a huge impact not only in his community but worldwide. For example, one year the Pontiac Holiday Tournament (a three-day, 26 game basketball tournament) had 32,000 views in the U.S. and across the globe. During the 2014-15 school year, there were 90,000 views of events that were streamed. Blake even engineered a solution so the local radio station could rebroadcast their online broadcast of football games. "It has been a privilege to lead an organization that was brand new to Pontiac, and help it grow and make it successful," said Blake.
This team researched and addressed aspects of entrepreneur Elon Musk's plan to build a Hyperloop transportation system in which capsules travel at speeds up to 750 mph. As part of the worldwide SpaceX competition, the team proposed solutions for wildfire prevention and suppression, earthquake detection and response, and passenger safety. They were one of only three high school teams chosen to attend the next round of competition at Texas A&M in February 2016. Out of a total of 115 teams, they were one of just nine teams honored for their technical design work, winning the 
Subsystem Technical Excellence Award
. Members of this team include Nick Pope, Tamara Ford, Jason Logerquist, Thomas Moore, Kyle Nelli, Dhruv Patel, Ben Piscopo and Ashley Sachdeva.
Growing up, 
The New York Times
 and 
The Wall Street Journal
always had a place at Rachel's family kitchen table. She was raised to value reading, including the news. Rachel explains, "My mom taught me that it's through reading that we see different perspectives, and form our own opinions and beliefs." However, Rachel noticed that many of her peers, especially females, weren't interested in current events. To address this issue, Rachel and her friend Sophia Dawn created a news website for teenagers called 
The Dawtor
. The writers come from all over the world and are all teenagers. They write in a concise style that appeals to their peers. They cover a variety of stories, but make sure to highlight important "need to know" stories. Rachel hopes that 
The Dawtor
 will continue to make an impact: "Reading the news and questioning the world is one step towards creating the next generation of future leaders."
Nathan worked with fellow student Andrew Duncan to design a band saw that greatly reduces the risk of injury. Permanent rare earth magnets imbedded in work gloves activate a proximity reed switch on the saw, causing pneumatic shears to cut the blade, preventing injury to the operator. Their design also kills any momentum that the blade would have after being cut.
Any extra components to operate the system were mounted on the back of the saw case, so they stay clear of the cutting surface and don't obstruct the operator. Their prototype consists of 27 parts that were added to the original band saw. They conducted research on patents, and found that there are some unique attributes to the design, making a potential patent claim possible.
Tavis was inspired to find a profitable way to manufacture a green alternative to corn ethanol when he learned that corn ethanol isn't as environmentally friendly as once thought. Cellulosic ethanol is a green alternative, but it's difficult and expensive to produce. As a result, only a small percentage of ethanol produced worldwide is cellulosic ethanol. While others have focused on how to make cellulosic ethanol less expensive to produce by genetically modifying organisms to break down the cellulose, Tavis took another path. With extensive research and help from mentors, he successfully created a symbiotic relationship between two bacteria that would maximize the production of ethanol from cellulose. His process costs 85% less than corn ethanol, requires 87% less acreage, and the byproducts are worth 891% more. Tavis has already obtained a provisional patent on his process, and is working to scale it up with the long-term goal of licensing it to a large ethanol producer.
Reece Johnson and Russell Smallwood, along with other students at their school, take battery powered riding toys and customize them to help children with their specific disabilities. For example, one riding buggy was modified for a child with Down Syndrome and decreased muscle tone. The buggy was modified so that it only moved forward when the child was in a standing position, motivating him to work on his balance and leg strength. Another riding toy was customized for a child that has difficulty with fine motor skills like pointing. A small button was installed that she has to point to and press, in order for the car to go. The group has created the Max's Miles Foundation to continue providing this service: helping children with physical and mental disabilities to develop skills and explore their world.
Abinaya became aware that many of her peers quit playing instruments because they couldn't afford to take music lessons. To address this issue, she created a non-profit music program called The Muzic Academy, which provides low-income students with the opportunity to take free private music lessons. Most of the instructors are high school students who are proficient in an instrument. The Muzic Academy charges for some lessons at a lower cost than what is typical in the area. However, all of the income is rolled back into the program to support low-income students with lessons, music books, and even instruments. The program currently has over 70 students and has expanded to cover 5 school districts. Abinaya says, "I want every student to feel the same way that I do when I pick up my instrument and know that music will always be there for them."
Four years ago, Ally Sussman created a project called Band Together 4 Music (BT4M), which enables low-income students in her area to participate in band by providing instruments at no cost. She has collected over 24 instruments and raised nearly $2,000 for instrument repair. The instruments are donated directly to the Mahomet-Seymour School District, and the band director distributes the instruments based on need. She also speaks about the BT4M program each year to 5thgraders interested in joining the middle school band. Now that she attends the University of Illinois Laboratory High School, she is reaching out to the campus community for donations. "The benefits of being in the school band go way beyond being able to play an instrument. School bands help kids develop teamwork skills, leadership skills and confidence," said Ally.
2016 Honorable Mention Award Winners
Atrazine Project, Adam Holzhauer and Jacob Jiles – Pontiac Township High School, Pontiac, IL
Sumona Banerjee – Niles North High School, Skokie, IL
Ethan Christopher – Wesclin High School, New Baden, IL
Jeffrey Elem – Pontiac Township High School, Pontiac, IL
Nina Galvez – University Laboratory High School, Urbana, IL (from Champaign, IL)
Jasper Gilley – Homeschool, Glenview, IL
Morgan Harris – Oswego East High School, Aurora, IL
Bridget Johnson – Maine South High School, Park Ridge, IL
Julia Kiely – Lyons Township High School, Western Springs, IL
Charles Kotrba – Whitney M. Young Magnet High School, Chicago, IL
Alexander and Graham Louthan – Jones College Prep, Chicago, IL
Maine South Computer Science Club, Alpri Else and Sean Stapleton – Maine South Township High School, NIles, IL
Ashley Meyer – Columbia High School, Columbia, IL
Winston Michalak – Lycée Français de Chicago, Chicago, IL (from Evanston, IL)
Ashley Niebruegge – Collinsville High School, Maryville, IL
Kristen Schroeder – Iroquois West High School, Gilman, IL
Scientific Flames, Eren Riviere-Celasun and Pierre Philbert – Lycée Français de Chicago, Chicago, IL
Hannah Shaban – Aqsa School, Homer Glen, IL
Sharmain Siddiqui – Niles North High School, Morton Grove, IL
Jonathan SooHoo – University of Chicago Laboratory High School, Chicago, IL
Nathan Sopt – West Leyden High School, Franklin Park, IL
Shreya Thakkar – Prospect High School, Mt. Prospect, IL
Two Girls and a Gear, Danielle Pawlowski and Hannah Maes – Downer's Grove South High School, Naperville, IL
Women in STEM Club, Caitlin Westerfield and Lucy Sattler – Evanston Township High School, Evanston, IL